The RMB Ride for Rhinos Tour
The RMB Ride for Rhinos cycle tour is an annual cycling safari hosted in Namibia's rugged Damaraland. An initiative created by Venture Media in 2015, the tour's co-host is Wilderness Safaris, who handle the logistics and hosting of the riders on this incredible adventure. The tour offers an exclusive group of cyclists a once in a lifetime chance to enter important rhino conservation areas. 

The main aim of the tour is to raise awareness of the plight of Namibia's rhino conservation engines, including Save the Rhino Trust Namibia, alongside other important partners, while simultaneously raising fund to support their endeavours.  
DATES
:
22 – 26 September
Bookings are first come first serve. Only 18 spots per tour.
The tour includes four nights accommodation at Wilderness' amazing Desert Rhino Camp. All inclusive as usual.
Cost: N$18 000 pp sharing. Excl VAT.
Please note that rooms are shared. So it is ideal to book as a couple or with a friend.
Location and arrival:
We will be staying at Wilderness Safaris' Desert Rhino Camp – check it out here.
Guests will arrive at Wêreldsend, where you will park your vehicles for the duration of the event. You will be transferred to the lodge from here.
Accommodation:
The lodge has 9 rooms. Rooms will be shared so we recommend joining the tour as a couple or partnering up with a friend.
Meals and Drinks:
All meals, drinks and cycling snacks are included in your tour package. If you have any special dietary requirements or drinks requests please be sure to inform the organisers or indicate it on your entry form.
The cycling safari:
The mountain-biking routes follow mostly single track game trails and jeep tracks. The terrain is hilly, there are rocks (many of them) and some sandy river patches. The routes cover approximately 40 – 50 km daily. The tour is recommended for mountain-bikers with moderate to advanced technical skills and fitness levels.
The wild:
During the course of the trip you will go on multiple nature drives and rhino tracking excursions, or perhaps even be lucky enough to spot one from your saddle. We have also in the past had numerous encounters with other wildlife such as elephants and even the lions. You are at all times accompanied by an experienced Wilderness Safaris guide. This tour is wild! In the best possible way.
Need more information? Contact us.
Please indicate if you would like to join TOUR 1 or TOUR 2 in the comments/message section.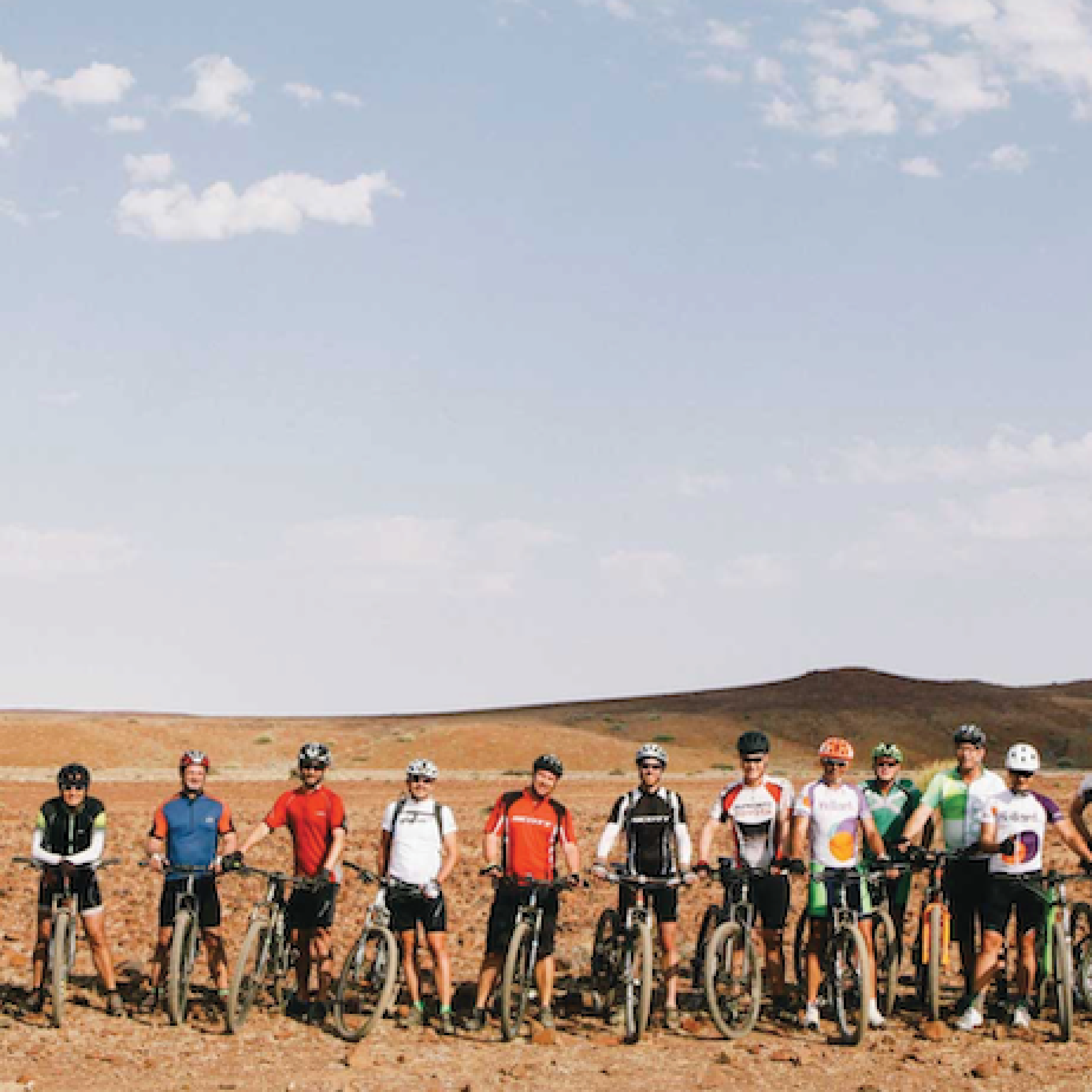 What do you do when something as important as an entire species is standing at the edge of a cliff ready to tumble at any given second? Do you stand by and watch or do you rally, roar, riot, rush, run and ride to save them?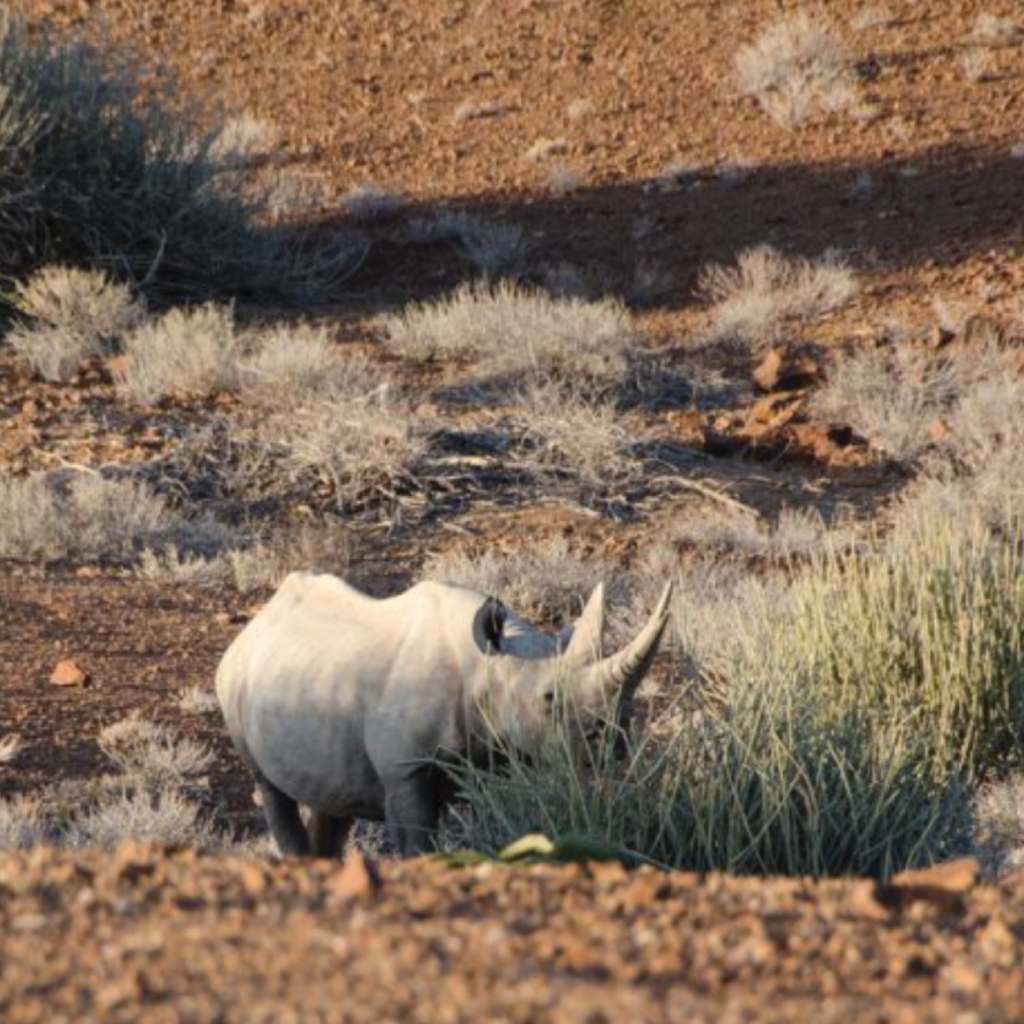 For the second time in as many years, cyclists joined a group of like-minded individuals, passionate about the plight of Namibia's black rhino, on this exceptional quest.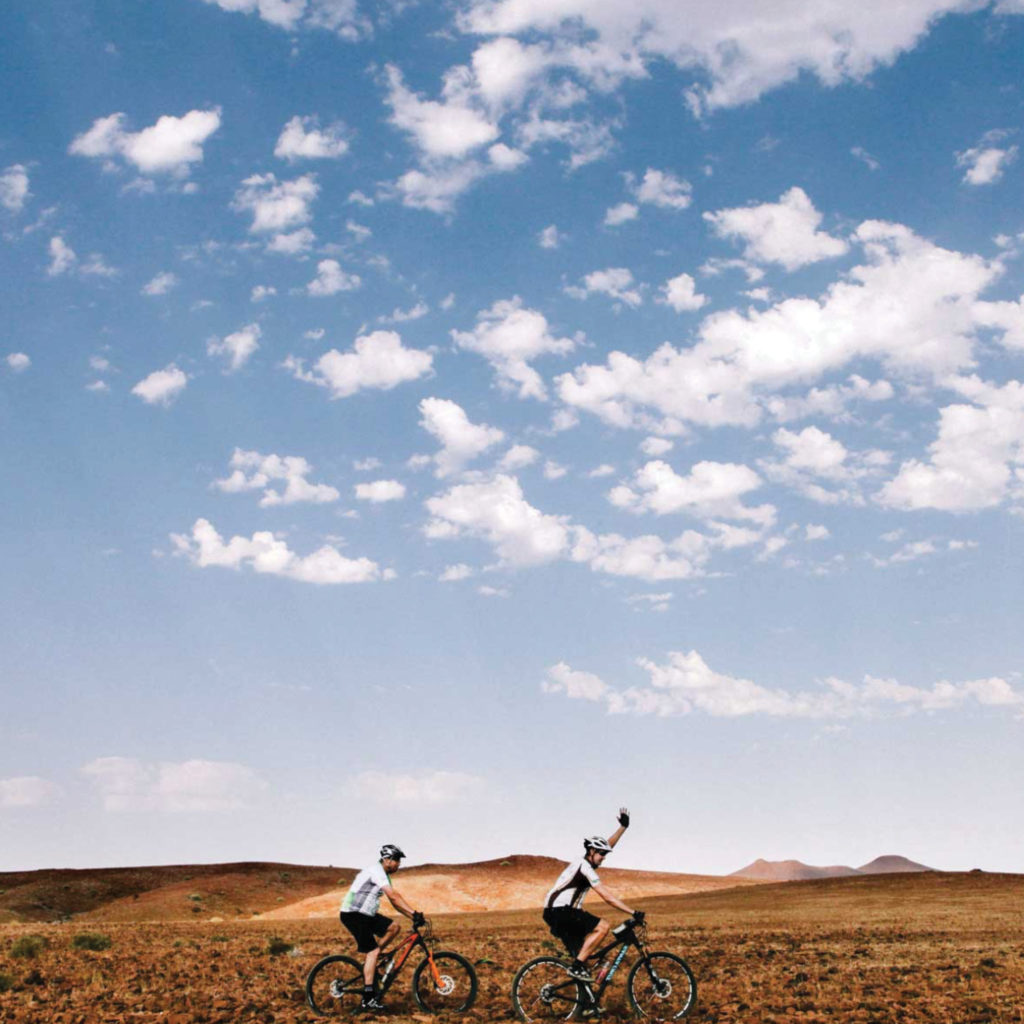 What does it take to save the rhino? The list is long – tracking teams, vehicles, food, uniforms, binoculars, support staff and supporters, among many other things. But the most essential element needed to save the rhino is passion.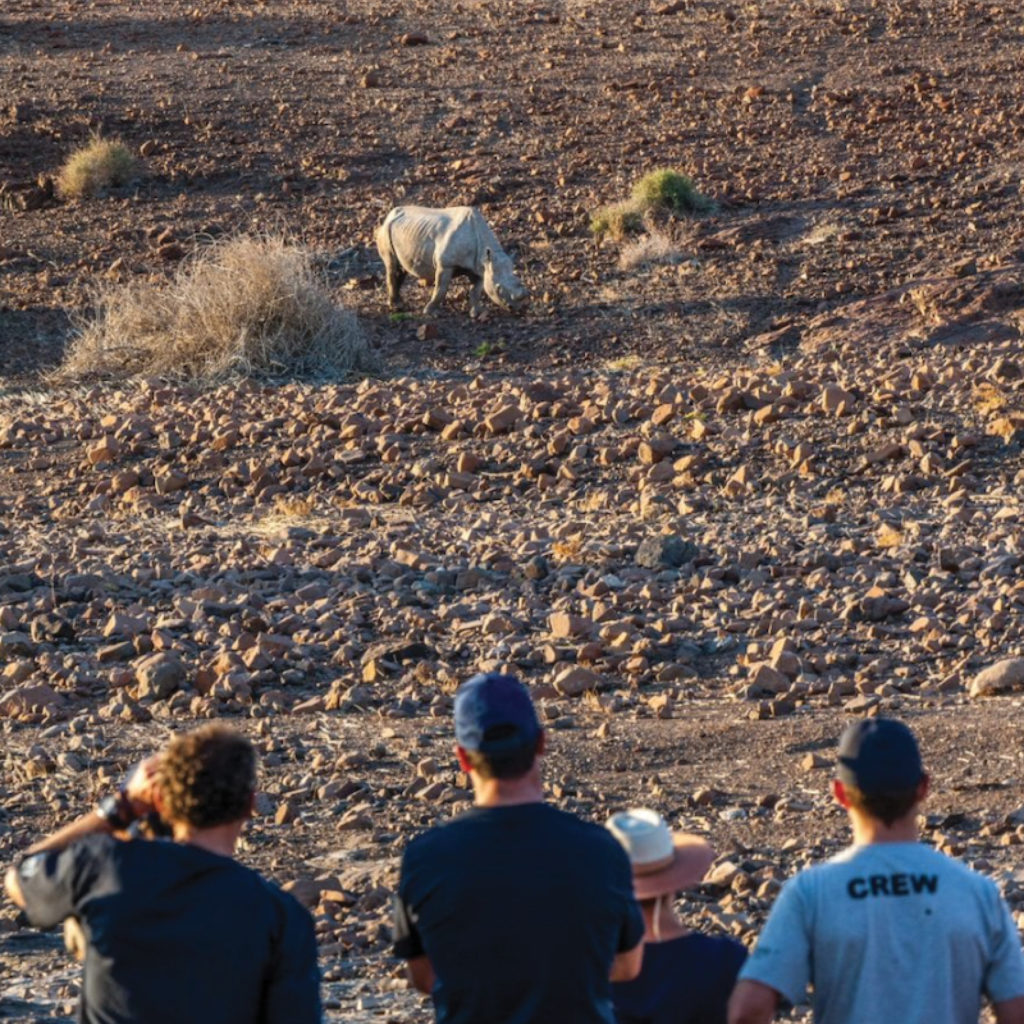 They have a tough job. But who can help? Those of us who can exert ourselves physically, or have cash or time to spare. What can we do? We can keep talking. We can facilitate the conversation. We can keep shining light on the problem and the issues at hand as brightly and for as long as possible.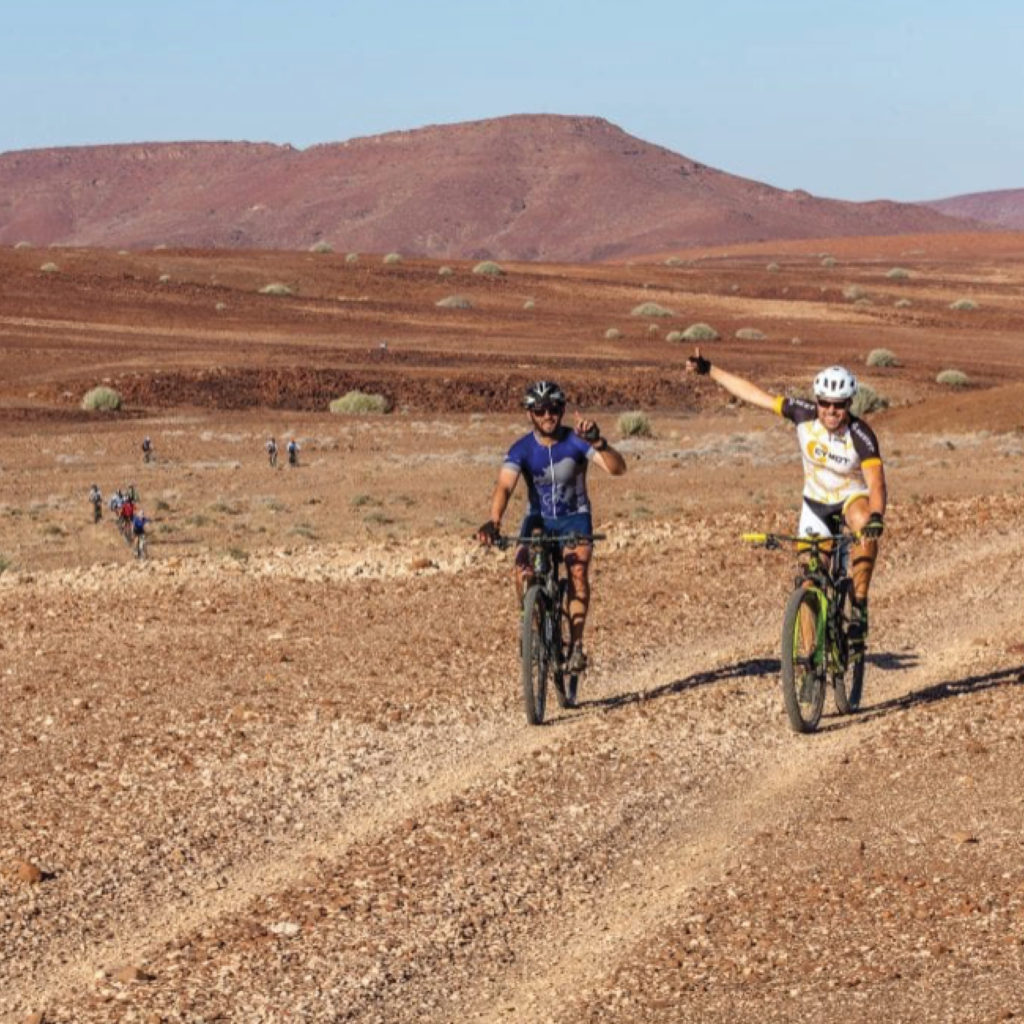 The 2019 RMB Ride for Rhinos, which took place in July, marked the fifth year that riders donned their cycling gear and got on their bikes to pedal through the rugged, but scenic terrain of the Palmwag Concession.